Take a look at a few of the latest of Art's Awards and certificates.
If you want to be treated by someone with knowledge and experience, you may want to review a few of my most recent awards and certificates.
Lifetime Achievement Award from the Mid-America Hypnosis Conference Selected by his peers for service in the advancement of Hypnotism as a distinct profession.
2016 Best of Elgin Award Literally speaks for itself among area hypnotists.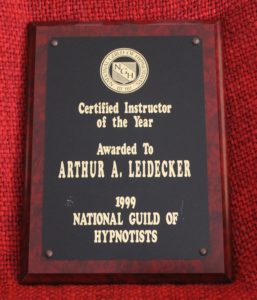 1999 Certified Instructor Of The Year Award
Selected from hundreds of Hypnotism instructors from around the world for outstanding work in training and certifying hypnotists.